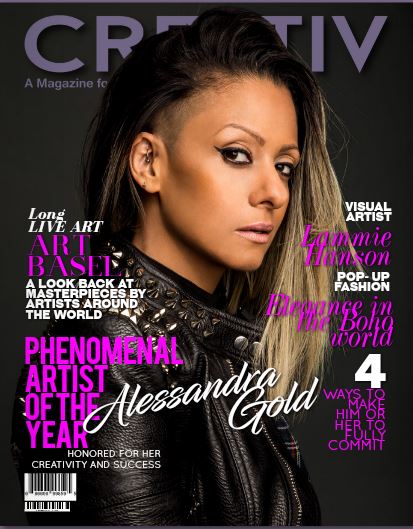 I have to say that it feels good to be able to close out the year on a strong note. As you can see there has been a slight shift in the releases of new issues. As we are progressing we have realized our prints are more and more being recognized in the art world. We would like to take this time and thank our loyal readers and subscribers who have supported us for the past 3 years. We are now 23 issues in and I can't tell you how happy this makes me feel.
This issue is very special, Alessandra Gold, a Fashion Mogul, Entrepreneur, Leader and Philanthropist has graced our cover this time around. She has amassed tremendous success in her industry yet remains as humble as they come. Having an international business is no joke, which means she has reached a milestone that most of us can only dream of. However, she remains steadfast in her pursuit to ultimate freedom, for she says that this is only hitting the tip of the iceberg "Until you can sell your company or become public, you haven't made real money yet" she states. There is much to learn from this beautiful mind of hers, and we had the privilege to bring it to you up close and personal.
We also have had the pleasure of highlighting an emerging visual artist from New Orleans Lammie Hanson, she encapsulates the soul of a woman through her paintings.
The 3rd annual Diner En Blanc happened this year and 2 of our writers were able to write about their experiences through their words. We even learned how to network like a journalist though the eyes of Emonde.
Our writers truly poured their heart out in this issue, I can say that I am proud of each one of them for dedicating their time and talent to the magazine. I am excited for the year to come and can't wait to see that it has in store.