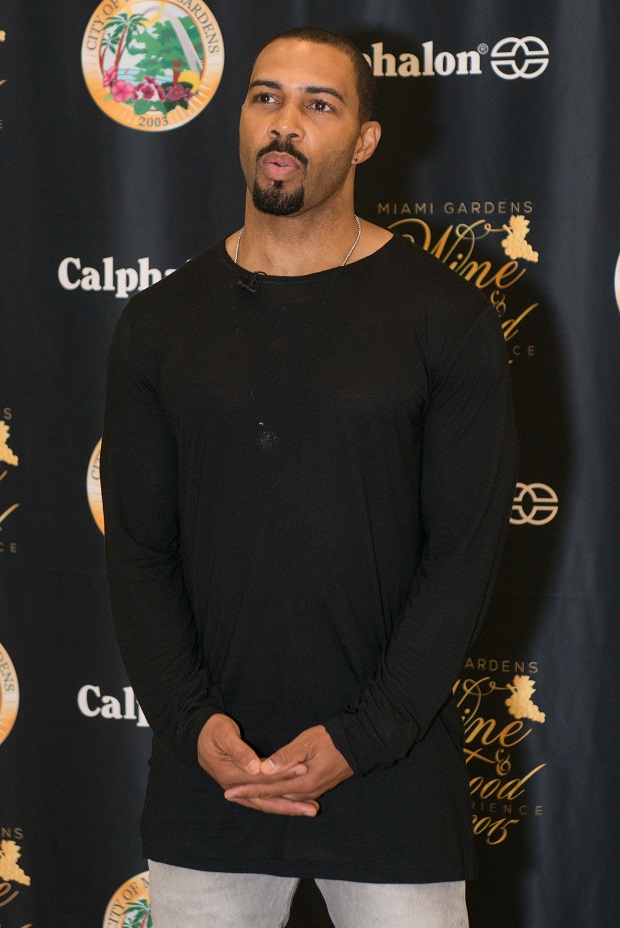 Written by Helen Barbara. Photographed by Sean and Peter Simpson
With an atmosphere filled with beautiful people and amazing sounds from the dj's at the Miami Gardens Wine and Food Experience. Omari Hardwick was the most anticipated man of the night. Hundreds of questions to ask but so little time; [The TV Show] Power, Poetry and food. Although most of the questions were going to be about the hottest most talked about show Power.
Hardwick surprised the group that he second guessed being a part of the show. Since he came from a poetic and theatrical background, Omari was not sure what Curtis (50 cent) Jackson had in mind for the show. What few people fail to realize is that musicians aren't just performers but storytellers. It's not about the flow, it's about the poetry. It's about the actual writing and creating a scene. After sitting down with Courtney Agboh (writer/producer) and 50 cent, Hardwick recognized the similarities as in writing poetry.
Speaking of poetry, students from Miami Norland Senior High School were also present representing one of many schools here in South Florida of the Bluapple Poetry club. Founded by the Jason Taylor Foundation in partnership with Omari Hardwick, the bluapple poetry allows students from middle schools and high schools to express themselves. The free after school programs provide a safe environment to empower students and their communities whether in writing or performance. This program dedicates itself to meet, discuss and share ideas across districts and across more than 40 schools in South Florida.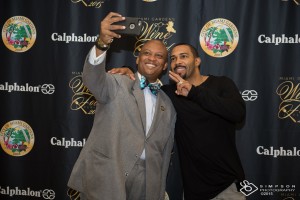 Omari Hardwick enlightened us briefly about doing a PSA for Trayvon Martin. After the verdict was over he wrote the poem Little Black Boy Wonder. Les then a week later he gathered a group of friends and colleagues and they recorded a video of them reading the poem. This was something dear to him due to the fact that we as a human race sharing one planet should not treat each other as if we were different species.
Before the interview came to an end, being at a Wine and Food Event how we had to Omari about his food preference. He's a foodie that grew up on Gumbo and many flavorful meals growing up. But his tastes buds ranges from Salmon to Kentucky fried Chicken. So, when asked what he would prefer as his last meal he replied "My last meal would have to be Fried chicken and fries."
Interviewing Chef Troy Tingling and Chef Alain LeMaire was an honor. Both were excited in being a part of the Inaugural Miami Gardens Wine and Food Experience. Especially Chef Troy since he lives in the area and loves giving back to the community.  Chef LeMaires' highlight was being invited to be one of the headliners which was simply an amazing feeling.
I asked what they have prepared for the judges and what wine would complement the dish. Chef Troy said "For the judges I prepared Jerk Pan Seared Scallops w. Truffle Roasted Bok Choy and topped it with bacon Creole Sauce. Pairing it with a nice glass of Sauvignon would complete the dish." While Chef LeMaire  prepared stuffed pork loin medallion with smoked bacon, onions and scallops over crispy parmesan potatoes, with baby bok choy chimichuri and a Honey Whiskey cream sauce. "You can go either way with a red or a white bottle of wine." He added.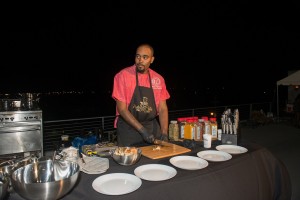 Mastering a passion for a craft can either be by accident or by choice. Chef Troy became a chef because he loves cooking and believes you should love what you do. He enjoys being in the kitchen and sharing his food with people over good conversation. Chef LeMaire on the other hand said that the art chose him. "Growing up, I never knew that this career would be so rewarding and fulfilling at the same time. I always had an affinity for food and entertainment, becoming a chef has given me the opportunity to do both on a platform."
A great chef knows their strengths and weaknesses. While both Chefs work great under pressure Chef Troy strengths would have to be executing a dish and keeping the details. Chef LeMaire points out that his speed and attitude is what makes him stand out when preparing a dish. Sometimes being a chef you have to pull out some tricks from your heritage in order add some flavor to a familiar known dish. The best part about interviewing these great chefs is finding out their favorite cuisine to cook? Chef Troy said that being Jamaican he loves mixing in  Caribbean flavors to his meals. "I love the comfort food from back home such as Roasted Fish, Jerk Chicken, and anything Curry. I take the island favorites and change it up." Chef LeMaire also had a similar response, "One of my favorite cuisine to cook, aside from my native country's (Haiti) cuisine is Italian simply because of the fresh ingredients, the flavors and love that is put into each dish." Although the festivities came to an early end due to Miami's amazing weather THE RAIN, the judges and guests will have to wait until next time to find out whose dish was the best. This is only the beginning for these amazing Chefs.