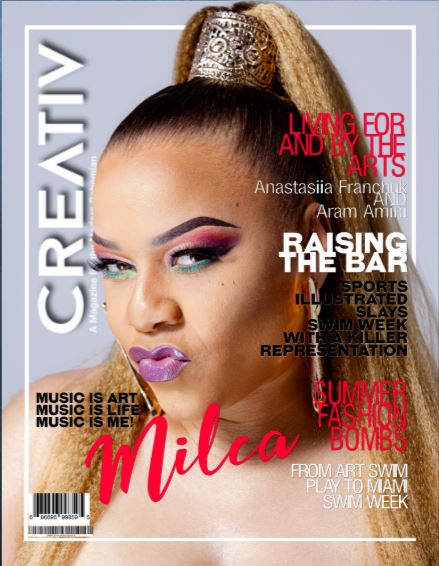 Whew! We are already at mid-year, Can you believe it? Summer is in full effect and Swim Week just happened. However I have to say that this year was the best yet. Sports Illustrated just gave us the show of our lives. The female beauty was represented on all front, from plus size women to women in wheel chairs to bald women, young, old, Black, White, Asian, Muslim the show left the audience in awe and thinking that truly we could all live in a world where we can accept each other with our flaws, faults and characteristics. On another note get your beach balls because the swimwear this year will have you pull out your wallets.
We also had the privilege of featuring international singing artist Milca from Paris, France. A musical gem in the Caribbean community. Moreover, great movies to watch this summer, check out Brian Banks the biopic that tells the story of a relentless fighter.
It would not be a complete issue without the art. Abstract artists Aram Amini and Anastasiia Franchuk. Two women who immerse themselves into their craft while giving meaning to it all.
A special thank you to photographer Chris Jacques who shot our cover this month the details of this photography can truly be admired. Thank you to our writers and our contributing photographers. Summer is here and if we could slow time down we would. Here is to our 33rd issue. Enjoy!