Many artists take the opportunity of ART BASEL's presence in Miami,  to present their work as well. We had the opportunity to witness a fashion demonstration by Liliana Salazar through SEN5ES,  a massive collaboration, sponsored by Inhabit Luxury, organized by Kristi Bachan and Liliana Salazar during Miami Art Week. It served as a preview of Liliana Salazar's couture collection . 
Liliana started to dive into the  fashion world at a very young age. Today, as a well known designer in her community, our curious minds certainly were in tuned with the questions she was asked after her show. When asked how she overcame her fears of pursuing her dreams, her response simply was " I am fearful right now". She stands in front of a cheering audience after her final runway walk: " Feel the fear and do it anyway, the fear never goes away it's a matter of channeling it. You feel it, you do it,  that's it. Don't think about it, go with the flow believe in yourself and have great people around you…" A true gem in this industry who worked tirelessly to give us a taste of what she was capable of.
The WOW factor stemmed from the inspiration behind the creation of each of her pieces. The curated exhibit included artists such as Arbey Ramirez, BOUD, Christin Paige Minnotte, David McCauley, Erin Parish, Erica Scheff, Nate Dee, Pablo Contrisciani, Renda Writer, Ronald Sánchez . After the runway show each model stood next to the art piece that inspired the garment they were wearing: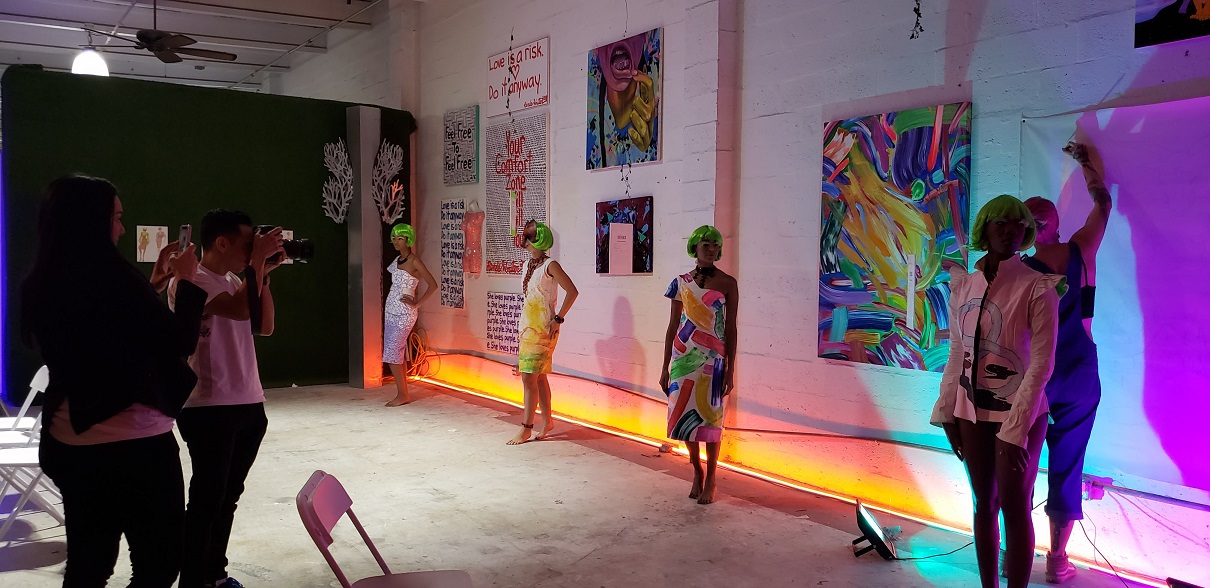 One piece in particular stood out from the rest for us, as an abstract cascade of colors. The piece by Pablo Constrisciani a local artist from Miami who has exhibited around the world inspired the multi colored off the shoulder dress created by Liliana. Sometimes less is more and this dress spoke volumes. A pret-a-porter fitted for this era yet classic enough to be worn at any point of time.
The art pieces that decorated the room were all auctioned off to benefit Rise Up Gallery "a non profit organization which provides therapeutic art workshops to the community and curates pop up exhibits for local artists."
Certainly the show was enjoyable and Liliana and her team did an extraordinary job. We look forward to seeing more of her work in the near future and wish her nothing but success in the pursuit of her dreams.