Overtown Music and Arts Festival (OMAF) happened on July 14th 2018 and it was nothing short of amazing.
Community has always been an interest of mine when we are speaking on popular topics. It gives me such a warm feeling when I participate within my community. Over the past few years, so many community events have been curated for the enjoyment of the residents who live to make these communities great. The best thing the leaders of a community can offer to a resident is the chance to live, work and play in an area they call home. If you have just realized your community doesn't offer you those opportunities then take action to call attention to the leaders so that change can happen. I can state that I live within a community that I'm able to thrive and grow as an urban creative. It feels my heart with joy and brings my mind peace that I have experienced all aspects of my community. This past weekend I enjoyed another great event curated for my neighborhood, the historic city of Overtown, the Overtown Music and Arts Festival.
When I first reviewed the lineup for the Overtown Music and Arts Festival (OMAF) I knew this one was not to be missed. I have been able to attend OMAF for the past three years, not one time have I been disappointed. It's great fun to be about connecting with your neighbors, enjoying the amazing vendors and jamming to award winning music only a few blocks from home. This year the festival seemed to be bigger and better with more vendors and more attention to the arts. There were several areas for attendees to create an artistic memento for themselves by art organization who were at the festival. I noticed a favorite organization, Miami Urban Contemporary Experience (MUCE) had a tent that offered a free painting experience. Others like the Bakers House Complex offered a nice artistic experience as well for attendees to enjoy. The arts are a key part of the festival and it definitely showed.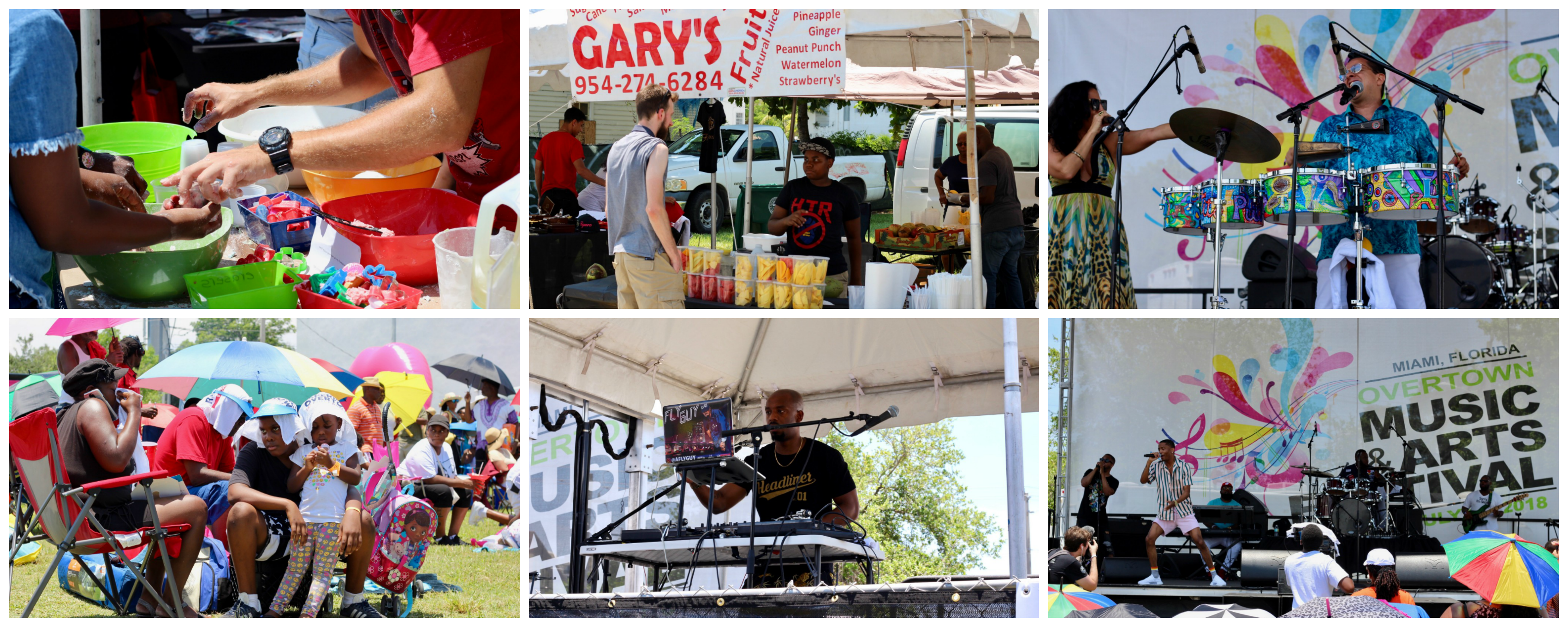 Now can we talk about the show! As before you heard me mention the amazing lineup, so let's recap shall we? The lineup included a few local artists from Miami who all did an amazing job displaying their talents and entertained the crowd. Felixx Music was a part of the lineup as well and he did an astounding job, even with the heat, the man owned the stage with his dance moves and charm. Artists such as Tito Puente Jr lit up the stage with his Latin music and dance that was a hit with the audience. I mean who doesn't enjoy a little moment to partake in the bachata. OMAF has always been known to have an amazing R&B showcase which was the same this year. Award winning singers Jon B, Vivian Green, Estelle, Music Soulchild, K. Michelle, and Ginuwine all graced the stage to lay all their sultry hits on us. It was great. Songs from these artist always tend to send you back to that exact moment that brought meaning to your life that you deem as special. All artists seemed to be so genuine, kind and connected well with the audience. Even Jon B got up close and personal by coming into the crowd during his set. I believe all artists were able to connect so well with audience because it was the vibe from the audience that truly made them feel at home. The energy was so raw and real that couldn't be denied by anyone who was present.  In all it was a show that captivated the heart and soul of the audience.
That's point of the festival in my opinion, it's to connect and engage in your community. No city, state, or country can grow without the involvement from the people who have created these communities together. Over the years, we have the tendency to leave our communities behind to seek others that is deemed "better" but realizing the essence of any should be the main reason you choose to reside there. We should all feel at home and comfortable in our own place of residence. Being able to interact with each other outside our homes is the best way to strengthen a neighborhood and allow it to grow. I appreciate the Miami CRA and Headliner Marketing Group for believing in a city that most have forgotten about. These two organization make sure that residence are happy and outsiders will consider living, working, eating, and playing in a community that holds so much promise. The Overtown Music and Arts Festival is the result of community growth, interaction and love. If you have yet to experience this festival then stay alert and plan to attend next year, its one you don't want to miss another year.
Photography courtesy of Overtown Music and Arts Festival
CREATIV Photography by Louis Giraldo