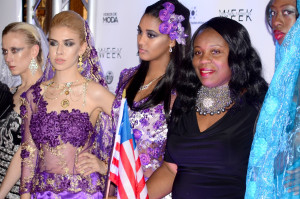 New York Fashion Week was elevated to 292 feet in the Heights of Manhattan this season… that is, the uptown Washington Heights district. On February 12th, TeKay Designs, a Houston, Texas based fashion label presented it's formal designs of evening and bridal gowns during the Uptown Fashion Week showcase in New York City. The invitation-only event was attended by fashion enthusiasts and dignitaries such as Manhattan's district 10 Councilman, YDanis Rodriguez and the Executive Director at City University Of New York (CUNY) – Hostos Community College, Ms. Seny Taveras. The United Palace Theater located at 4041 Broadway served as the appropriate backdrop for TeKay's aesthetic inspiration of royal gowns.
TeKay's royal couture ignited the United Palace Theatre. TeKay Designs displayed couture bridal and evening gowns with an accessorized look for a Spanish flair. The designer label featured embroidered gowns adorned with Spanish mantilla veils, cathedral veils and symbolic decorative hand fans that resonates with Hispanic culture. This ties into TeKay's goal of showcasing designs influenced by different countries around the world; with a highlight on Latin cultures for the Fall/Winter 2015 season. The inspiration for TeKay Design's signature collection 'Queen of the Brides', is to honor historical women of monarchies around the world who have contributed admirably to humanity.
"I feel honored to present TeKay's fashions in Washington Heights, an epic center of New York's Hispanic community" explains Creative Director, Kimma Wreh. "Hispanics have unique celebrations and I want to reach out to the Hispanic communities by displaying colorful, formal gowns that appeal to a woman's fashion style and cultural taste".
For this season, TeKay's primary bridal gown which represents the Spanish culture is named after "Queen Isabella the first". Queen Isabella I of Spain is often referred to as "La Catolica" (the Catholic) a title given to her by the Spanish Pope, Alexander VI. This is a title that the Kings and Queens of Spain still retain. Queen Isabella helped to build a military and also re-organized the courts and Spain's Administration of Justice. Queen Isabella established laws against the abuse of the Native American people at the hands of colonists and adventurers. Her strong army and navy made Spain a world trading power. During her reign, Spain began its rise into greatness and this was the beginning of the "Golden Age" of Spain.
TeKay Designs wants to be a part of Hispanic celebrations by offering colorful and stylish gowns that complement the Hispanic culture. "As a Couturieres, I'm open to receiving design suggestions that can be contributed to TeKay's line of non traditional gowns. I have more to learn about the Hispanic culture and I enjoy bringing the concept of honorable women and culture to life through couture design. TeKay will always have room for new fashion looks that celebrate cultural style." states Wreh.
CREDITS:
Macintosh Smith (photos)
Christina Collins (video)