The greatest asset of South Florida is certainly its diversity. Miami alone gives you the opportunity to experience food and fashion from all over the world. This December France is coming to town! Sustainable French Fashion Brand Gaâla launches in store at SHOWFIELDS Miami FL. Discovering the premise behind the brand certainly left an impact on how we view the fashion world these days.
Founded by husband and wife duo, Kelly de Gaalon and Alexander Zhalezka, Gaâla is the meeting of two worlds – French inspired designs combined with the finest Belarusian craftsmanship.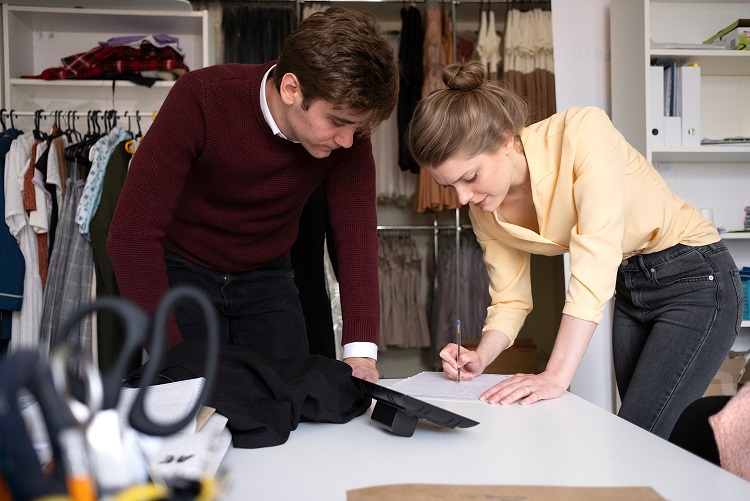 Gaâla focuses on creating pieces that transcend time and trends; beautiful and sustainably crafted styles for both professional and everyday wear that stays in style – timeless dresses and jumpsuits that never need to be replaced. Comfortable and functional wear for the modern, sophisticated woman. The latest collection
features Gaâla's newly appointed Creative Director, Paola Cossentino.
There is no better way to know a brand than to connect with the owners themselves. The following is a conversation with Kelly where she goes a little deeper in getting to know the story behind the brand.
Knowing and understanding the impact our actions have on the planet have led us to mindfully craft our designs using luxurious excess production materials, deadstock fabrics, and other low impact natural textiles. – 
How did you come up with the idea of using Deadstock Material for your
designs?
didn't want to add to the fashion industry's careless consumption model, so it
was at that point that I decided that Gaâla's ethos would be to design timeless
pieces made from repurposing beautiful quality deadstock fabrics.
Using deadstock fabrics we can't reach the economy of scale in the way we
might want to. It is always a challenge because it is not a matter of filling out a simple factory order of X amount of fabric in our chosen design and colour.
We have to find each fabric in the right quantity which might make five pieces
and then the process starts again to make another nine pieces from a different
fabric. It is incredibly time-consuming, but equally I feel it is what gives each piece that
extra special value.
How did Miami receive a touch of France in fashion? Do you believe that it will thrive in a tropical city?
I believe so, our focus is on dresses and we will be coming out with a large spring collection in March 2021 with many light dresses, perfect for warm weather.
Are your designs conceptualized by you the founders or do you let your tailors explore their creativity?
Our tailors and pattern constructors definitely contribute in the design process.
Silk and wool can be really hot fabrics for the sunshine state, do you think that you will only stick with cotton as a consequence?
Most of the silks we use for our dresses are very light crepe silks lined with viscose
therefore they are very cool in the summer. We also use a lot of linen which is
absorbent and breathable.
What has sparked you to launch your brand during the year of COVID-19 in
Miami, or were these plans already in the works and it finally happened?
We love the concept of Showfields and when they told us they were opening a location in Miami we were very excited to open with them, despite the COVID crisis.
What are you hoping for the year 2021?
We are constantly learning and finding new ways to become more sustainable,

starting with how we recycle our production leftovers and packaging.
Our next step is to find a way to use sustainably made deadstock fabrics, such as eco-cotton and Tencel. We will continue to develop small scale workshops with good working hours, a positive atmosphere and fair salaries.
We always like to leave our audience with words of inspiration, would you
mind offering some to our aspiring designers or entrepreneurs following in your footsteps?
Starting and running a fashion brand is a lot of hard work and it's also a market with heavy competition. Find what will set your business apart from others long-term and capitalize on it. It's a very challenging business but is at the same time a rewarding and fulfilling journey.