Day One – Press Conference, Kick-Off Party and Opening Runway Show at Brickell City Centre
Day one of Miami Fashion Week (MIAFW) officially kicked off Wednesday, May 30 with a style-studded press conference at EAST, Miami the official hotel partner. MIAFW CEO Julio Iranzo took the stage to welcome guests and introduce Honorary President Antonio Banderas. Iranzo and Banderas were joined by famed creatives, such as MIAFW's Creative Director Lourdes Fernández-Velasco, renowned runway director Sergio Salerni and ProColombia's Vice President of Exports Juliana Villegas. Additionally, City of Miami's dignitaries Mayor Carlos A. Giménez and Mayor Francis Suarez, along with representatives from the community, such as Miami Fashion Institute Chairperson Asanyah Davidson and CEO of Nicklaus Children's Hospital Dr. Narendra Kin, were also on the panel.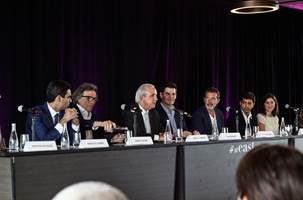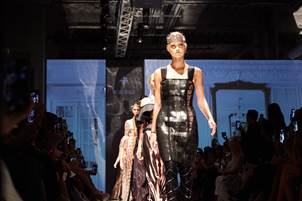 The conference was focused on the imminent global recognition of Miami as a fashion capital among New York, Milan, Paris and London since being named the second largest fashion week in the United States. Conversations also spanned topics of sustainability in the fashion industry, the evolution of Miami Fashion Week and the importance of giving back to the community.
Later that evening festivities began with the international fashion community filling the second level of Saks Fifth Avenue in Brickell City Centre (BCC) for the official MIAFW kick-off party. Stylized looks from each of the twelve designers showing at MIAFW were staged throughout the anchor store on models as chic onlookers enjoyed bites and beverages courtesy of Casa Tua Cucina.
The style-studded soirée was followed by the much-anticipated opening runway show that debuted Venezuelan-born designer Oscar Carvallo's 2019 resort collection. Starting on Miami time, the collection celebrated art, nature and femininity – a stunning contrast to the backdrop of Brickell City Centre's futuristic architecture.
Day Two – Debut of Miami Fashion Week Summit and Runway Shows at Ice Palace

Day two of MIAFW commenced with the debut of Miami Fashion Week Summit, a series running parallel to each day's runway shows from 10 a.m. – 1 p.m. in Miami Dade College Wolfson Campus' auditorium. Hosted by fashion model and entrepreneur Valeria Mazza, the program focused on the fashion industry's sustainable and ethical issues with top fashion experts Sass Brown, founding dean of Dubai Institute of Design and Innovation, Javier Goyeneche, founder and president of ECOALF, and Kavita Parmar, founder of The IOU Project.
Later that evening, guests arrived at the Ice Palace Film Studios, the official home of MIAFW, and experienced a runway by the creative students of Miami Fashion Institute at Miami Dade College. The dynamic collections included bold, colorful and futuristic clothing, setting the bar high for the next generation of fashion aficionados.
The night concluded with Miami's very own, Rene Ruiz, who debuted his new brand "RENE by RR." With ethical fashion being a global topic, Ruiz broke through sustainability by putting a glam spin on casual resort wear with upcycled materials.
Notable attendees included: Antonio Banderas (MIAFW Honorary President), Ana Quincoces (Former member of 'The Real Housewives of Miami'), Axel Fernando Witteveen (Argentine Singer and Songwriter), Valeria Mazza (Fashion Model and Entrepreneur), Claudia Vergara (Actress), Alexia Echevarria (TV Personality), Aida Domenech (Influencer), Tara Whiteman (Influencer) andLuanna Perez (Influencer).
Day Three – Miami Fashion Week Summit, Runway Shows and Antonio Banderas Benefit Gala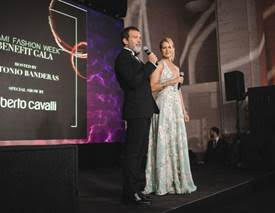 Day three of MIAFW continued with the educational series of Miami Fashion Week Summit hosted by internationally recognized model Valeria Mazza. Dr. Carmen Hijosa, founder and CEO of Piñatex, opened the floor and spoke on sustainable materials, Juan Pedro Moreno, president of Accenture, followed and commented on the impact of digital, Francois Van Den Abeele, founder of Sea2see, closed the program on topics of sea waste disrupting fashion.
Back at the Ice Palace Film Studios, over 600 guests were in attendance leaving standing-room only for the runway presentations by Benito Santos and Ágatha Ruiz de la Prada.
Renowned Mexican fashion designer, Benito Santos, opened the night with looks inspired by Greek mythology. Ready-to-wear resort wear with gold accents and gladiator sandals, the exclusive collection reflected ancient beauty.
Noble Spanish designer Ágatha Ruiz de la Prada followed with her models bouncing with energy, blowing kisses and getting cheeky on the runway.  With the brand's signature fun-loving style, the exclusive resort collection unleashed a rainbow-spanning palette that was smacked with stripes, hearts and patterns.
The evening concluded with MIAFW Honorary President Antonio Banderas Benefit Gala, with all proceeds supporting Nicklaus Children's Hospital Foundation and Fundación Lágrimas y Favores. The annual black-tie event featured sit-down dinner, live auction and live entertainment by Fanny Lu (Colombian artist).
For the first time in its history, Roberto Cavalli unveiled a special curated luxury collection at the gala to an audience of A-list celebrities, global influencers and fashion leaders. The collection embodied a modern design of beauty and sensuality with a fresh perspective on glamour. Featuring 25 looks from the brand's collection, the Roberto Cavalli team donated an evening gown of the SS 2005 Roberto Cavalli Collection to the live auction.
Notable attendees included: Antonio Banderas (MIAFW Honorary President), Julio Iranzo (MIAFW CEO), Carlos A. Giménez (Mayor of Miami-Dade County), Valeria Mazza (Fashion Model and Entrepreneur), Nieves Álvarez (Spanish Model and Television Presenter), Ágatha Ruiz de la Prada (Fashion Designer), Ángel Sánchez (Fashion Designer), Rene Ruiz (Fashion Designer) and Ugo Colombo (Real Estate Developer).
Day Four – Miami Fashion Week Summit and Runway Shows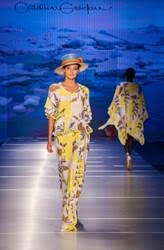 Day four of MIAFW closed out the educational series of Miami Fashion Week Summit hosted by internationally recognized model Valeria Mazza. Focused on the fashion industry's sustainable and ethical issues, guests speakers included Carry Somers, founder of Fashion Revolution Foundation; Gerfried Gaulhofer, founder and CEO of Panosocial; and Carmela Osorio Lugo, designer at Calvin Klein Jeans and founder of Carmela.
That evening the Ice Palace Film Studios saw a total of over 1,000 guests flowing in and out for four spectacular runway shows by Daniella Batlle, Carolina Estefan, Lina Cantillo and Custo Barcelona.
Fashion designer Daniella Batlle showcased a sensual and feminine collection with tribal elements and pastel colors. Battle designs are inspired by a combination of textiles, colors and styles from different regions of Colombia. Carolina Estefan took the stage and showcased an exclusive collection with abstract patterns, silks and flowy silhouettes.
Later that evening, Lina Cantillo showcased her 2019 resort wear collection, which focused on the revolution of silhouettes of the contemporary man. Her collection included European influences, which were tailored for the Latin man.
Custo Barcelona closed the night with a theatrical flair filled with powerful, self-assured women. The collection featured a range of fabrics from velvet, silks, knitted jacquard, shimmering nylon and lace. With an empowering runway show, guests' eyes sparkled as they experienced an assortment of metallic elements in gold, silver and copper tones.
Notable attendees included: Antonio Banderas (MIAFW Honorary President), Julio Iranzo (MIAFW CEO), Valeria Mazza (Fashion Model and Entrepreneur) and Fanny Lu (Colombian Artist).
Day Five – Runway Shows and Closing Party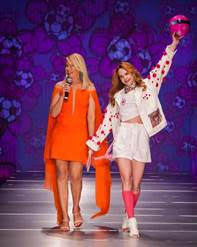 Day five of MIAFW kicked off with an exclusive children's collection by Mexican designer Pamela de Haro, supporting the Iluminemos de Azul foundation. Shining in blue, 4-year-old Instagram sensation Taylen Biggs left the crowd in awe as she opened the show.
Alongside Biggs, the following celebrity children walked the runway to raise awareness for autism: Alaia Costa (Adamari López daughter); Santiago Miguel Mendoza, Miguel Alejandro Mendoza and Diego Ignacio Mendoza (Nacho's sons); Nicole Tacher (Alan Tacher's daughter); Lucas Bernal (Jorge Bernal and Karla Birbragher's son); Miranda Monsalve and Mathias Monsalve (Adriana Monsalve's children); Amanda Torres (Karka Monroig y Tommy Torres' daughter); Amalia Hernandez (Carolina Sandoval's daughter); Diego Alejandro Balsera (Gloria Ordaz's son); Joshua Segura (Orlando Segura's son); Camila Plehn, Paulina Plehn and Lucia Plehn (Maria Ines Duarte's children); and Greivis Antwan (Graivis Vazquez's son).
Later that evening, MIAFW announced its five winners of the 'First Faces' social media competition, which ran from May 8 – 26, 2018. Emily Hutchison, Brittany Jean, Caroline Grillo, Patricia Mendez, and Karen Soto each had the unique opportunity to open one of MIAFW's runway shows by star-studded designers.
At the final show of MIAFW, Venezuelan-born fashion designer Ángel Sánchez came to impress with his architectural elements, bright colors and contemporary silhouettes. Ruffles and flowing frills made their way down the catwalk in various silhouettes of pink, green, nude, black and white pieces.
Notable attendees included: Julio Iranzo (MIAFW CEO), Valeria Mazza (Fashion Model and Entrepreneur), Camila Canabal (Venezuelan Hostess), Tara Milk Tea (Influencer), Irma Martinez(Author), and Danie Gomez-Ortigoza (Influencer).
The week came to an end with a vibrant closing party at Delano Beach Club. In collaboration with MIAFW, Goleadoras showcased one-of-kind pieces to support #GirlsWithBalls, which fosters education and empowers girls through soccer.
For more information about Miami Fashion Week, please visit www.miamifashionweek.com.
Social homes for MIAFW: @miamifashionwk on Twitter, which created tailored-made and exclusive content while streaming worldwide. @miamifashionweek on Instagram and Facebook.
Courtesy Miami Fashion Week and www.quinn.pr