South Florida Fashion Academy is a program designed to educate, inspire
and illuminate an intense desire to optimize the creative minds of teen girls ages 12- 18 that are interested in the Fashion and Beauty Industries. South Florida Fashion Academy's curriculum and objective is to fulfill the lack of programs in our communities geared towards the arts, entrepreneurial skill set and self- love. SFFA will be globally celebrated as the academy where students and instructors transcend traditional margins to stimulate leading edge innovations.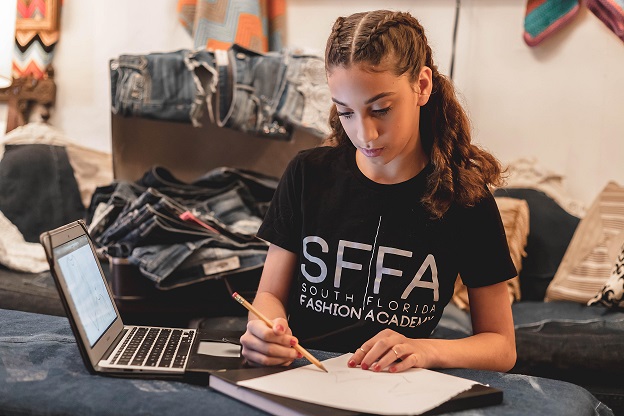 SFFA fosters creativity and career focus while educating its students to embrace inclusiveness, sustainability and a sense of community.
"It is my goal to birth the next generation of entrepreneurs and trailblazers in the Fashion and Beauty Industries. Our programs are designed for students to enter their post- secondary option with advanced knowledge or the ability to infiltrate the preferred industry having entrepreneurial skills, be armored with self -love and the tools to build healthy relationships" said South Florida Fashion Academy Founder Taj McGill. "I'm so excited and anxious for SFFA to launch. For the past year, we have been involved behind the scenes during Ft. Lauderdale Fashion Week, community projects such packing hygiene products with Beauty Initiative, on the set of music videos, fashion shows, etc. and we have not even started so I can only image what's to come." Said South Florida Fashion Academy student Jada Johnson.
South Florida Fashion Academy is located at 2900 North Dixie Highway Oakland Park, Florida 33334. Each student will graduate from South Florida Fashion Academy with in depth knowledge of running a business and hands on training in the following areas of study: Modeling, Blogging, Fashion Photography, Retail Buying and Merchandising, Fashion Design, Skincare, Makeup, Accessory Design, Fashion Styling, Fashion Technology and much more. SFFA will provide a rigorous learning experience built on the highest standards of excellence; an environment that promotes creativity and experimentation; and diverse provisional learning with a variety of industry partnerships. South Florida Fashion Academy will host its Grand Opening on June 1, 2019. It is our hope for the community to come and witness South Florida's first of its kind Fashion Academy for teen girls. For more information, please visit southfloridafashionacademy.com